In 2005, with 2 very young kids and my husband working weekends, it was very difficult for me to attend any Canadian Kennel Club dog shows with my 'Belnois' berners. So we would mostly have fun in our 2 favorite activities with our dogs : hiking in the woods & carting. Today, we still enjoy these activities with our berners, but we are now also very involved in various CKC events and dogs shows, including conformation, obedience, drafting, Rally-O and hopefully in the near futur agility too! Thanks to family and friends for caring for our kids and dogs, who make it possible to attend these shows!

OUR ALL TIME FAVORITE ACTIVITY WITH OUR BERNERS: DRAFT!

OR ON A SLED IN WINTER!

EVEN BALOU, AUNT CLAUDIA'S GOLDEN RETRIEVER LOVED TO PULL THE CART LIKE OUR BERNESE MOUNTAIN DOGS!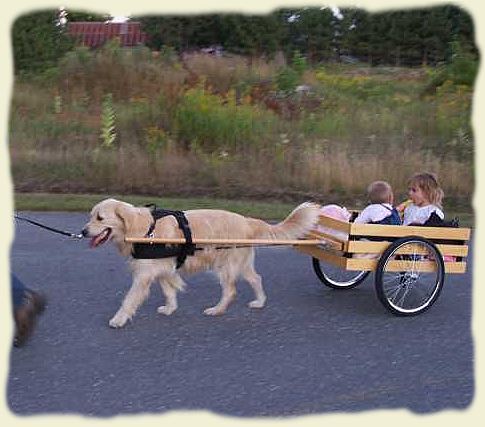 A STOP AT THE CORNER STORE WITH THE DOG CART TO BRING BACK SOME MILK... AND CANDY FOR MOVIE NIGHT :)