Here are the shows and activities we have done with our 'Belnois' Bernese Mountain Dogs in 2008:

FALL WALK WITH THE BERNESE MOUNTAIN DOG CLUB OF QUEBEC - STE-MARCELLINE, QC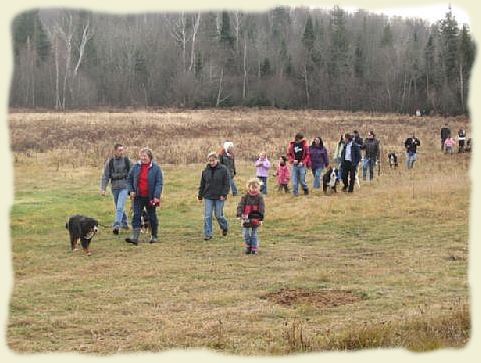 DRAFT TEST, JANETVILLE, ONTARIO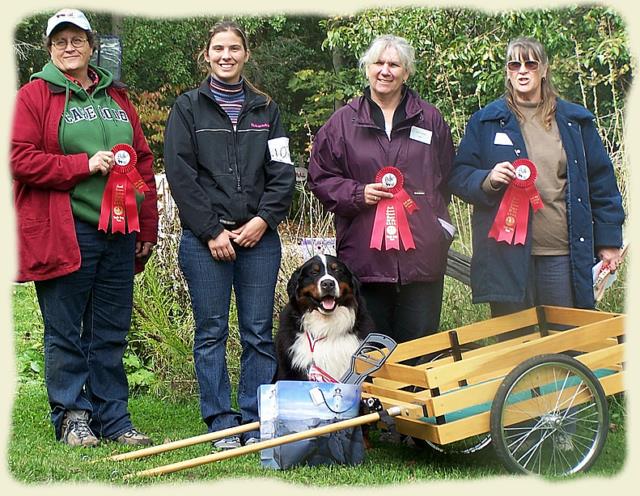 BERNESE MOUNTAIN DOG CLUB OF ONTARIO SPECIALTY, PORT HOPE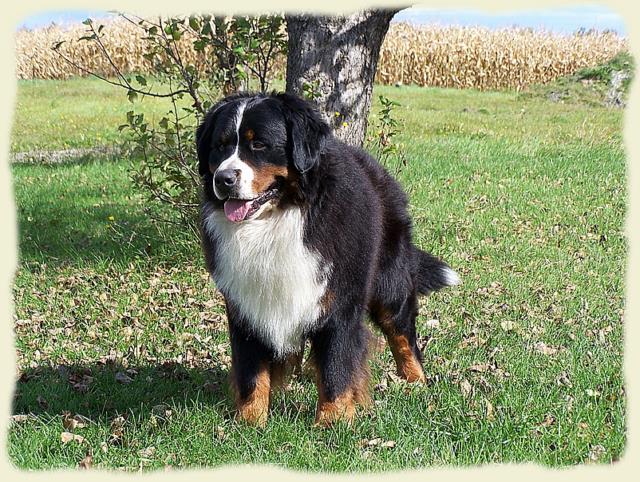 LAVAL SHOW
19-20-21 SEPTEMBRE 2008

Une fin de semaine de tonerre pour mes 'Belnois' :) Ils remportent plus de 4 titres en une seule fin de semaine! Vendredi, Gabrielle complète son Championnat Canadien en beauté avec le 'Meilleur du sexe opposé' et 'Meilleur Chiot' les 3 jours! Samedi, Joy mérites ses 2 titres:  'CD' en obéissance et 'RA' en Rally-O Avancé. Et dimanche, Trinity se mérite aussi son titre de 'RA' en Rally-O et elle a même réussi sa 1ere qualification pour son titre 'RE' Rally-O Excellent ! Nous avons déjà bien hâte à l'année prochaine pour continuer à s'amuser autant :)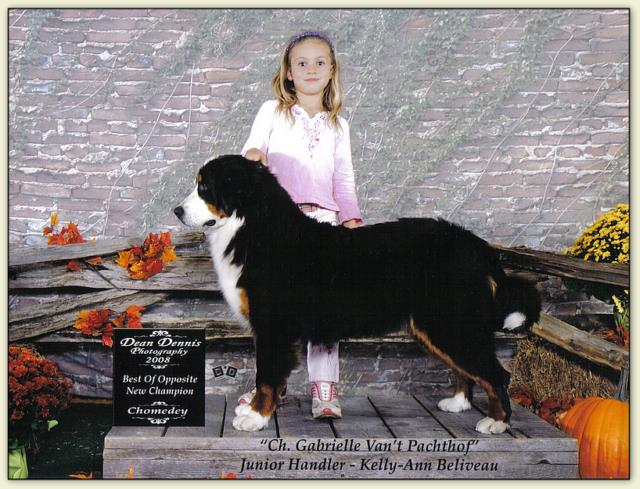 STE-MARIE DE BEAUCE SHOW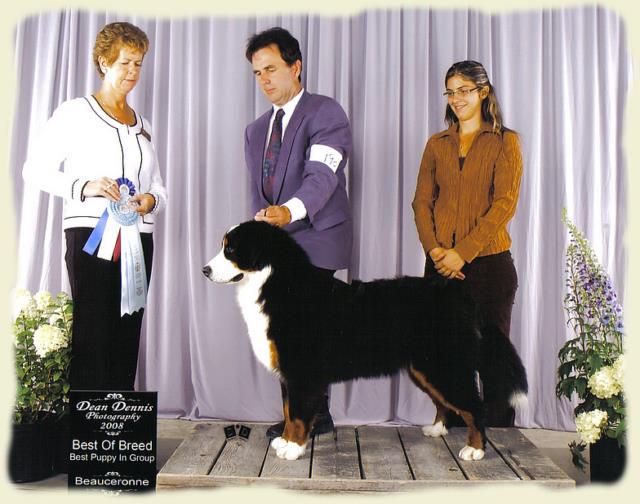 STE-FOY SHOW
1-2-3 AOÛT 2008

Gabby, maintenant âgé de 9 mois, reçoit les honneurs de 'meilleur du sexe opposé' et 'meilleur puppy' vendredi et samedi et dimanche, nous sommes choyés avec 'meilleur de la Race' ! Et, quoi dire de Trinity, qui volait en perfection d'un enceinte de compétition à l'autre si joyeuse, et remporte en plus plusieurs 1ere place en obéissance et en rally-O !!! Tel père (Eulis), telle fille (Trinity), ils sont une joie à travailler avec eux :)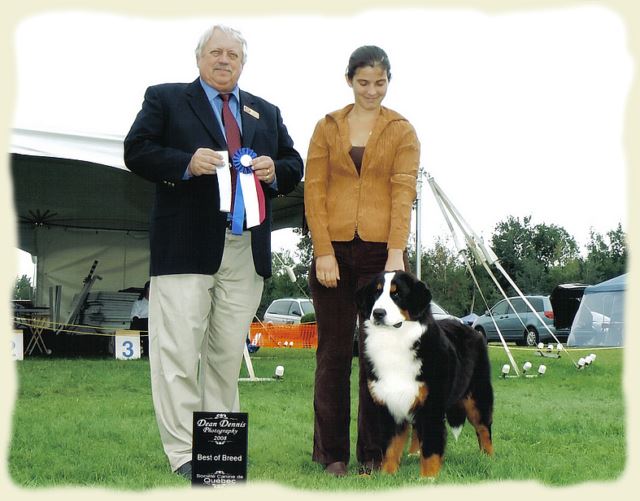 EULIS, TRINITY AND KELLY-ANN START IN AGILITY!!!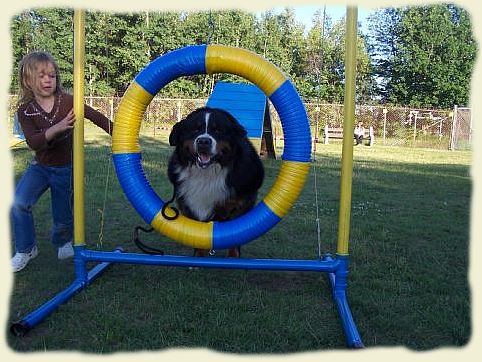 ST-ANTOINE D'ABBE SHOW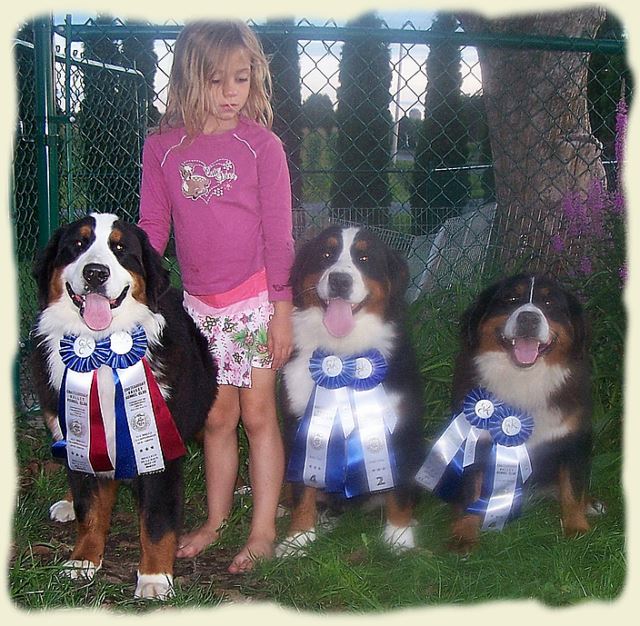 BERNESE MOUNTAIN DOG CLUB OF QUEBEC SPECIALTY AND TROIS-RIVIERES ALL BREED SHOW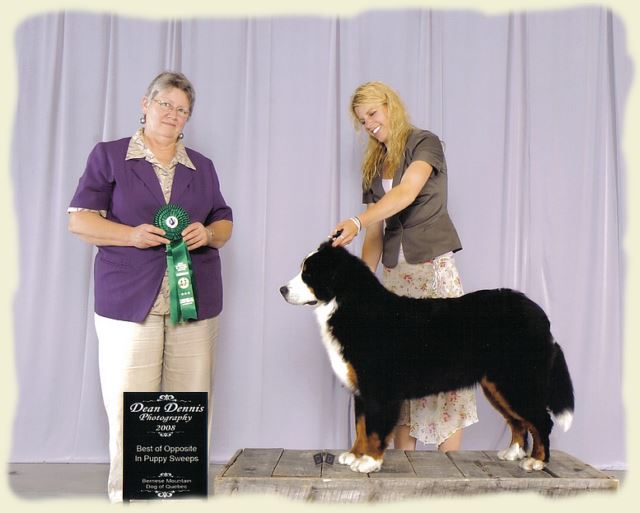 BRÔME SHOW
15 JUNE 2008

Trinity qualifies both the 2 trials of Rally-O that same day with 2nd place ribbons over many entries with 99 and 97 points on 100 !!! She was with her father Eulis who also qualified both 2 trials in Rally-O too with 3rd and 4th place ribbons :)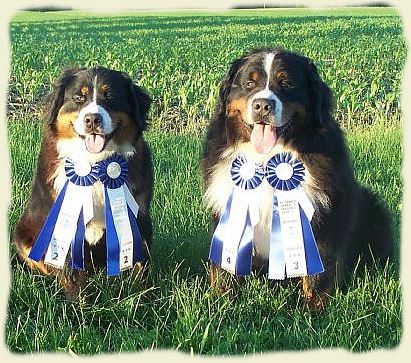 OBEDIENCE AND RALLY-O TRIALS HELD BY THE MOUNTAIN CITY OBEDIENCE CLUB, MONTREAL
24 MAI 2008

Malheureusement, j'ai oublié ma caméra photo pour cette belle journée de Rally-O avec Eulis. Cependant, bébé William a accompagné maman en poussette à cette journée et voici la face que William avais exactement lorsqu'il regardais maman et Eulis dans le 'ring' au travail :) Avec le plus beau 'fan' (bébé William) qui nous encourageais, Eulis lui a fais plaisir en remportant de beaux pointages de 94 et 96 sur 100 remportant 2 qualifications pour son titre 'RN'!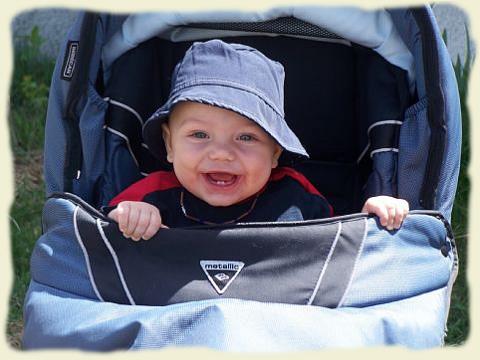 DRAFT TEST, SIMCOE, ONTARIO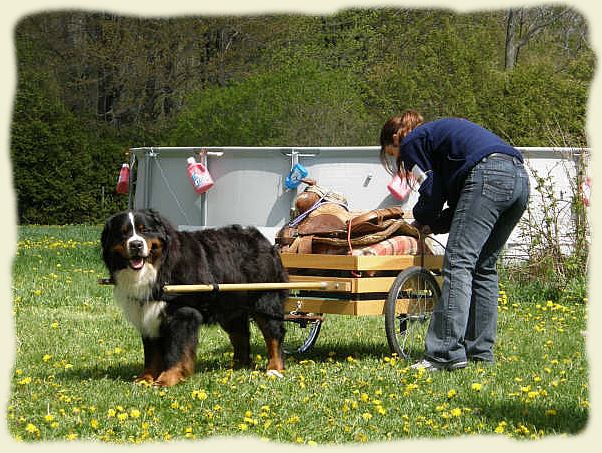 BERNER FUN DAY - MONT-TREMBLANT, QC
23 FÉVRIER 2008
Une journée magique pour le Club Québécois du Bouvier Bernois!!! Nous avons eu plus de 25 bernois à cette journée d'hiver parfaite, une température idéal, des jeux amusants, des échanges mémorables, simplement beaucoup de plaisir au plein air! Trinity et Gabby ont aimé revoir plusieurs 'Belnois' qui ont participé à cette journée à Mont-Tremblant. Nous avons hâte à la prochaine rencontre!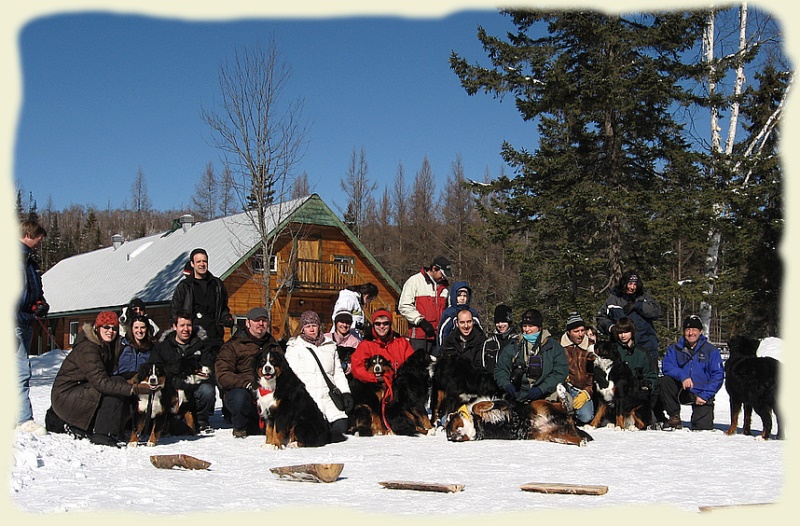 NEW IMPORT : GABRIELLE VAN'T PACHTHOF ARRIVES IN OUR HOME IN CANADA!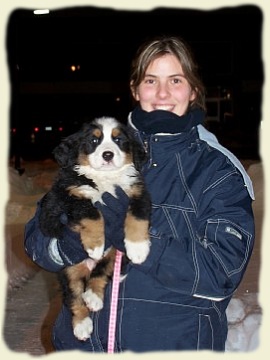 4 JANUARY 2008
We are sooooo happy to welcome our newest import form Belgium 'Gabrielle van't Pachthof'! She is all we were hoping to have, she has a promising futur and she is perfect for our family! I thank Christine to have let this special girl join us in Canada!
See the personal page Gabby