Here are the shows and activities we have done with our 'Belnois' Bernese Mountain Dogs in 2006:

CHRISTMAS PARTY WITH OUR ACM GROUP - ASSOCIATION CANINE DE LA MAURICIE!
12 DECEMBER 2006
Every year, our local All-Breed Club 'ACM' invites all its members to a wonderful christmas dinner party with yummy food and delightful gifts for both our 2 and 4 legged friends. Santa Claus visits to give treats to our dogs! It is always such a pleasure to attend with my family and my 'Belnois' berners, sharing with our friends during the holidays.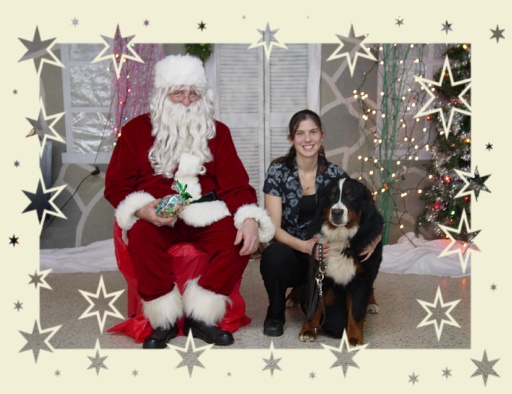 MONTREAL SHOW
24-25-26 NOVEMBRE 2006
A weekend to remember with Eulis!!! He excelled all our expectations : Eulis did amazing results in both conformation and obedience! In conformation, Eulis gets 1 x Best of Winners ; 1 x Best of Opposite Sexe ; 1 x Best of Breed!!!
Eulis also participated in the obedience trials that same weekend,
and he achieved 2 qualified scores!!!
BRAVO AGAIN EULIS! What a incredible weekend for a 10 month old puppy!!!!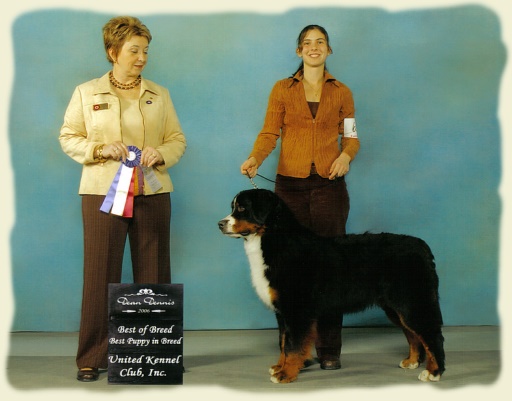 BLAINVILLE SHOW
28-29 OCTOBRE 2006
Encore Eulis nous impressionne! Samedi il remporte 'Meilleur Chiot de la Race' et 'Réserve Meilleur Mâle'! Dimanche, il passe avec grande facilité les 9 épreuves pour obtenir son titre 'CGN' (Test Bon voisin Canin)!

QUEBEC SHOW
20-21-22 OCTOBRE 2006
Première sortie pour notre jeune Eulis où il rapporte tous les honneurs : 5 x Meilleurs de Race ; 5 x Meilleurs Chiot de Race ; 1 x Meilleur Chiot du Groupe!!!
BRAVO EULIS! Quelle belle première sortie pour un jeune chiot de 9 mois! C'est seulement un début...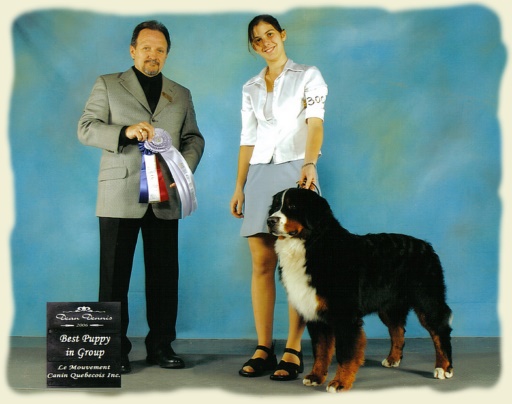 BMDCC BERNER FUN DAY HELD IN HUDSON, QC!
14 OCTOBRE 2006
Belle journée 'spéciale bouvier bernois' organisé par le Bernese Mountain Dog Club of Canada (BMDCC). Une journée de jeux et d'échanges entre amoureux de la race bouvier bernois. Nous avions un site magnifique chez notre amie Eve Menegoz (propriétaire de Yupp) à Hudson Qc. Eulis et Joy m'ont accompagné à cette journée avec mes filles!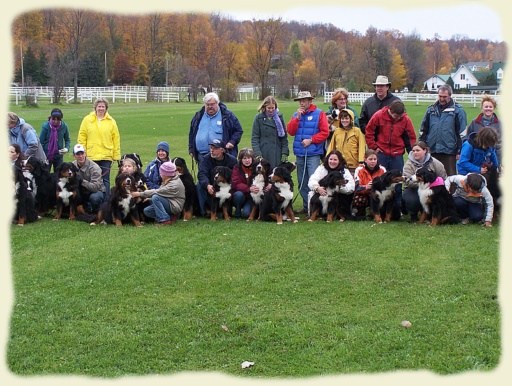 | | |
| --- | --- |
| Our Joy dressed up as a witch for halloween | Some berner hoola-hoola hawain... |
| | |
| --- | --- |
| Here is beautiful Yupp all dressed up in ???? ... we had fun... | |

STE-FOY SHOW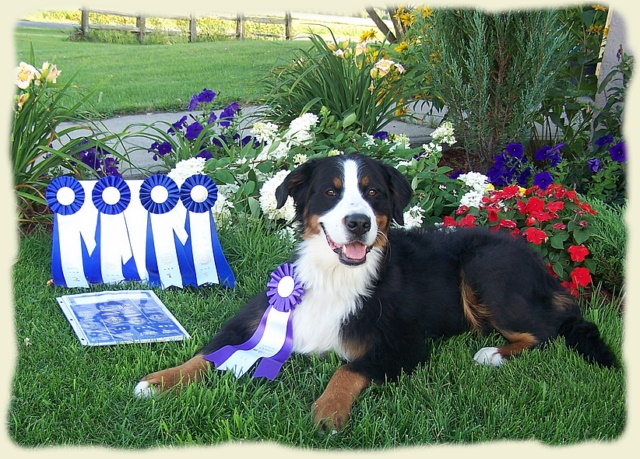 5-6 AUGUST 2006
What a weekend with Delphine! She qualifies with ease all 4 obedience trials taking a 2nd place and 3 times 1st place!!! She even just missed the high in trial (HIT) by only 1/2 point... Hence she got her 'CD' title ! Delphine has alot of talent and has alot going for her to continue in obedience. The same weekend, Delphine passes her 'CGN' test adding a 2nd title to her name. Congrats Delphine, we are proud!

BERNESE MOUNTAIN DOG BMDCQ SPECIALTY - TROIS-RIVIERES!
25 JUIN 2006
Voici ma toute première sortie en exposition à la spécialité du club Québécois du bouvier Bernois avec ma belle Joy âgé de seulement 9 mois. Joy s'est placé 2x 2e place dans la classe 9-12 mois. Nous sommes très fière d'elle, BRAVO! Elle s'est fais bien remarqué et, je remercies tous ceux qui nous ont faites les nombreux bons commentaires! Cette journée a été très spéciale pour nous et le début d'un grand amour avec les expositions avec nos 'Belnois'!